Since I've moved my art production seems to have slowed a bit. Gee, it couldn't have a thing to do with the 100 lbs each of fruit and veg that I've put up this season could it? 😉
I'm afraid that living in the state of Agritopia after 6 years in the sub arctic zone has brought out my hoarding instinct. I must confess, however, that the many jars of vividly colored produce appeals to my aesthetic instinct as well. All that and it just flat tastes better than the commercially canned stuff.
I'm working on the GFCF cookbook as well…and I gotta tell ya my DH loves research and development days.
Be that as it may, I have still managed to get a few pieces done and I've quite a few more on the drawing boards.
I've started digging into the reference shots that I took while living in the Alaska interior and the ones taken on my recent trip through the Yukon and Northern BC.
This is the most recent painting.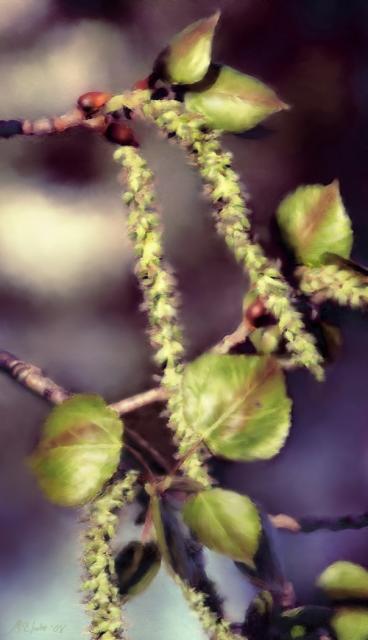 I'm finding that very loose brushwork used to create a lot of detail is getting to be my most used technique and tends to make said detail a little less stiff to the eye. It also gives my aspie penchant for twiddling with stuff a place to go that is productive. I've also been noticing that over the last few years that my work has been moving from and expression of how I feel and more into an example of how I see.
I like the way that this piece moves.  It invokes spring breezes even with the main focus being on the botanical aspects.   It's peaceful without being static.  It's also a study in complementary color relationships without getting in your face.   Overall I think it works.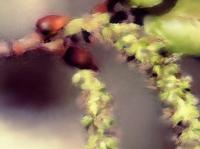 I've also been getting some of the photos that stand on their own finished.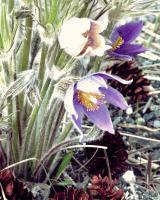 I do tend to see the world in macro…these flowers were only 2 inches or so in diameter. They were the first wildflowers that I saw of the season and were bravely blooming next to a motel parking lot in Tok, Ak
As always I welcome your opinions of the work, positive and negative alike. And again as always prints of these pieces are available at my Imagekind gallery