May 20th, 2008 talkingfox
In 48 hours I'm moving away from Alaska.
Part of me is happy to be going to a place where it doesn't get below 20F often and one doesn't have to shovel out in the winter or worry about avalanches, volcanic eruptions, frozen pipes and automobiles or getting stomped on and/or mauled by wildlife.
Another part of me is sad to leave a place of such breathtaking beauty. This place fills up my soul through my eyes.
Living in Alaska pushed my work into areas that I said that I would never go, mainly into landscape.
I don't know how I could have avoided landscape work living here. Every day brought a different and more intensely beautiful vista, even in the middle of town.
I think it's all about the light. There is a color of light that's pervasive here that is usually reserved for a few fleeting days in the very early spring in environments further south. It's a sort of pinky- golden color and being as there are so many white barked birches , it's reflected back everywhere. In the winter even snow dumps acquire alpine glow. Add to that the extended sunsets (hours and hours!) and well, even the big 64 box of crayons wouldn't be sufficient to render it. The sky is always doing something utterly amazing.
One thing that I found impossible in working on the Northshore series was capturing the sheer magnitude of the larger views. Trying to catch color as it was ended up looking garish on the page. Seriously…the color is so very intense that even photography doesn't seem to quite catch it or ends up looking less than, well, real.
There is not a film on the planet that can even approximate the living blue of glacial ice.
It seems that Alaska will not allow itself to be taken out of context.
In response to this I ended up focusing on small moments rather than the grand view.
This is an example of that and is the last piece in the Northshore Series: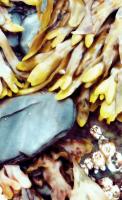 Okay before you say "gee it looks just like a photograph" Look here: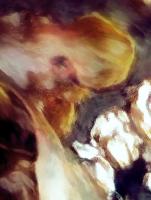 I've heard Alaska described as brutal, savage, and uncompromising. I think it's more supremely indifferent. It has an extreme and vital sense to it that is separate from human doings. The place thunders under ones feet.
I'll miss it….except for when the mercury hits -50.